The Avenger is a Creature created by the Doktor and the Wanderer.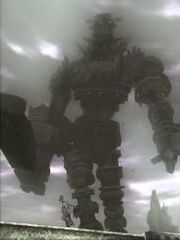 Origin
The avenger was created by the Doktor and the Wanderer as a safety precaution against the ragnarok. After they were trapped the doktor hid the Avenger in what is known as the Mayan ruins.
Return
The Avenger awoke and left in search of his purpose. When the Doktor told him everything he was deicated to fighting the ragnarok. In a fateful encounter with them he entered his powerful true form.
Disappearence
When the ragnarok were destroyed, like many gods, disapeared and his new location is not known.
Ad blocker interference detected!
Wikia is a free-to-use site that makes money from advertising. We have a modified experience for viewers using ad blockers

Wikia is not accessible if you've made further modifications. Remove the custom ad blocker rule(s) and the page will load as expected.